You can write to the Club at our regular venue:
West Sussex Guitar Club
Regis Recital Hall
46 Sudley Road
Bognor Regis
West Sussex
PO21 1ER
You can contact us by phone: +44 (0) 1243 866462
or Email: [email protected]
For tickets to our series of professional recitals, please use the ticket hotline
Directions to Regis Recital Hall
By Train
The Regis Recital Hall is approximately 2 minutes walk from Bognor Regis railway station. Trains run directly from London Victoria and Gatwick Airport to Bognor Regis.
By Road
Sudley Road is close to Bognor town centre.
If you are not familiar with Bognor and its one-way system, then one easy method of approach is to take the High Street, leaving the B2259 between Hotham Park and Butlins. Go over one small roundabout (2nd exit) and turn right into Lyon Street at the next (3rd exit). There is a public car park in Lyon Street, but you might want to continue to the end of this street, turn left onto London Road and first left into Sudley Road where you may find parking that is even closer to the Regis Recital Hall.
Alternatively, following signs for Bognor town centre will take you onto the B2166 (Longford Road). The train station will be on your left as you approach a set of traffic lights. Turn left and then left again, following the one way system. You need to move into the right hand lane. At the "T" junction, turn right and then immediately left into Sudley Road. The Recital Hall is the second building on your left.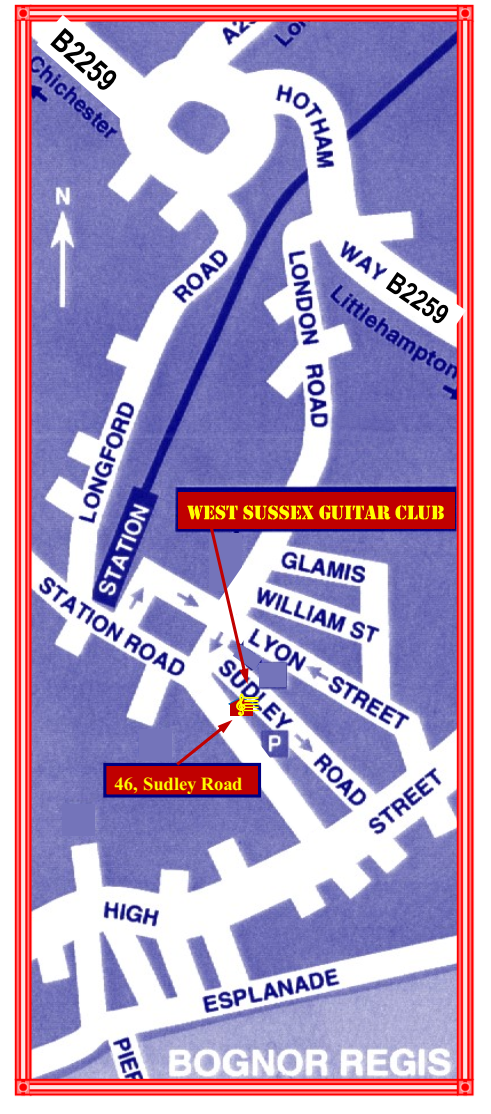 Parking
Please note that Sudley Road is a one-way street and the Regis Recital Hall is the second building on the left. The Hall has its own small car park (space for approximately 15 cars) with an entrance immediately past the hall.
On-street parking is available in Sudley Road and nearby Lyon Street (also a one-way street) plus there is a large public car park in Lyon Street which is almost parallel to Sudley Road.
To get to the Lyon Street car park, go to the end of Sudley Road, turn left and then left again, and the car park is a short way down on your left. There is a very short but not very well lit footpath between this car park and Sudley Road. The nearest postcode for the Lyon Street car park is PO21 1DU.
Please do not be tempted to park in any private car park (or lay-by) across the road from our Hall as these are for permit holders only.